10 things I learned during my first Double Century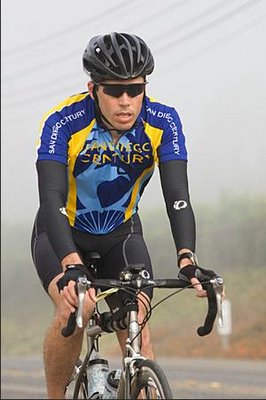 10. The
LA Wheelmen's Grand Tour
is a great event with very good support and awesome rest stops.
9. The lowland double century is the perfect first timers double
8. Hill training is a great way to prepare your legs for a double century
7. Hill training is not sufficient for training your butt to be in a saddle for over 11 hrs
6. "Ironic" by Alanis Morissette is NOT a good song to have stuck in your head for a double century
5. Ojai looks like a nice little town. I had never been there before, but now I want to take a walk around there some weekend
4. Riding along the ocean from Carpenteria to Malibu is really a treat
3. I can eat a bagel with peanut butter, a large glass of milk, 3 peanut butter and jelly sandwiches, a ham & cheese sandwich, a bean & cheese burrito, a bag of potato chips, 3 power gels, a bar, 2 chocolate chip cookies, 2000 calories worth of carbo pro, 3 12oz sodas, a bowl of chili with cheese, pasta salad, a cup o noodles soup, and lots of gatorade -- and still lose three (3) pounds by the end of the day
2. After 165 miles of bicycle riding, a warm "cup o noodles" soup tastes like food prepared by the goddess Hestia
1. Text messages and Facebook comments delivered to my phone are a GREAT motivator during a long day of exercise. Thanks everyone for your words of encouragement.
Labels: Cycling