Tour de Palm Springs - Results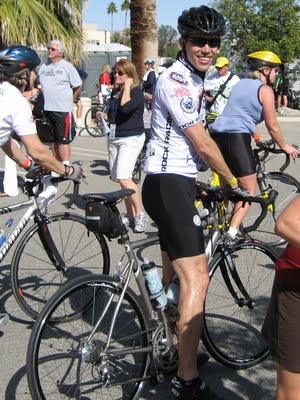 Right after the finish of the Tour de Palm Springs
I have a new PR for an organized Century ride. My previous best was 6:04 for the 2005 Solvang's Finest Century. My new record, from the Tour de Palm Springs, is 5:58.
Now, the reality is, it's hard to compare the Solvang ride and the Palm Springs ride since they are completely different rides. Unlike a running race, Century rides are not typically an exact distance. In fact they can vary by as much as 10 or 20 miles and still be considered a Century. If I recall correctly, the Solvang Century was actually a 100 mile ride, whereas the Palm Springs Century was 102 miles. 2 miles might not seem like a big difference, and it's really not, but even at a fairly quick 20 miles per hour pace, that extra 2 miles adds an additional 6 minutes. The Palm Springs ride also seemed to have a lot more stop lights than any other Century ride I've ever finished. At one point, around mile 65, I thought I might finish as early as 5:45 - 5:50, but I struggled a bit towards the end, and I also hit a string of lights in the last 10 miles that not only added a lot of "stopped" time, but also lowered my average speed because I had to slow down, stop, then speed back up at each light. On the other hand, the Solvang ride had more climbing, so that probably evens things out a bit.
The total time of 5:58 breaks down to roughly 20 minutes of 'stopped' time, and 5 hours and 38 minutes of riding time. The 'stopped' time includes refilling water bottles, picking up food, a restroom stop, and traffic related stops for red lights and stop signs.
There were a total of 5 SAG (
S
upport
A
nd
G
ear) stations along the course. I rolled through the first SAG station at mile 15 without stopping - but there was so much congestion, that I still had to get off the bike and walk it through. Since I didn't actually stop, the timer on my computer kept ticking away, so the congestion here just lowered my average speed, but didn't count towards the 'stopped' time.
The second station was at mile 27. I stopped at the second station for less than 3 minutes just to fill up a water bottle and roll out.
The third station was at the 51 mile mark. I finished the first half in 2hrs 50min. The first half of the course contained most of the climbing, so it was good to be half-done in under 3hrs. SAG #3 was at the mid-point of the course and it seemed like everyone was off the bike and relaxing - sort of taking a lunch break, so it took a while to get through it. By the time I got back on the road, I had spent almost 6 minutes at station #3. I didn't really need that long of a break, but it was impossible to move through there any faster than I did.
SAG # 4 was at mile 71. This one had very little congestion and was easy to get in and out of. I'm sure I spent less than 3 minutes at this one.
The last SAG station was at mile 90. I rolled in to station #5 after 5hrs and 12 min of total elapsed time, for a very brief stop to tighten the bolts on my water bottle cage which had somehow loosened up. I had 48 minutes left finish the ride in under 6hrs, and 51 minutes left to finish and still PR the ride. It actually seemed easily doable since I could average just 16mph and still make it, but because of the number of stop lights in the last part of the ride, it proved to be more challenging than I thought it would, and I barely made it under 6hrs.
Although the final results and a new PR were good, the execution of my plan was not. I wanted to take the first third of the course pretty easy, but after analyzing the ride data after the race, I can see I actually did the opposite. The most accurate way to measure effort on a bicycle is to measure watts. That tells me how much work I was doing, regardless of weather, incline, speed, or other conditions. Speed is not a good indicator of effort on a bike, because riding downhill or with a tailwind can increase speed by quite a bit even though it requires little to no effort.
During the first two hours of the ride, my average power was 191 watts with large sections that averaged over 200 watts. During the next two hours, my average watts dropped to 165. And during the final 2 hours it bumped up a little to 171 watts. During the Ironman, I'd much rather have average watt splits that are much less varied, and I need to start out easy, and pump up the effort later IF I know I can spare the effort without hurting the run.

My power graph (smoothed for easier reading)
from the Tour de Palm Springs
I'm fairly new to riding with Power, and this was my first Century ride with a PowerTap, so it was a good learning experience. I'll keep working on increasing my available power during my training rides, and regulating my effort during Centuries and races leading up to
IMAZ
. My mission is to make sure I'm fully dialed in and have my power strategy completely figured out by November 21.
Labels: Cycling